New product invention, design, and innovation are most commonly driven by unmet needs or improved technology applications. However, when it comes to mature products like motorsports machines, new product design ideas often start by referencing a key aspect of existing user experiences and using that information to create a new starting point for product design. This is very much the case with Graft vehicles. When we began conceiving of a new electric off-road motorbike, several considerations impacted the concept and component selection.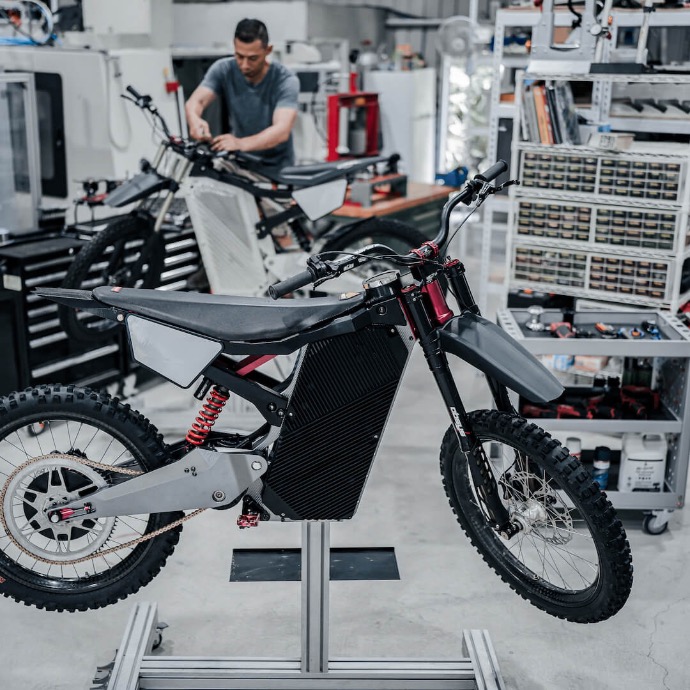 Most importantly, this bike would be 50% lighter than gas-powered bikes but would offer far greater power and torque outputs than other electric motorbikes in the market. Striking a balance between this weight and performance disparity led us to what might sound like an unlikely starting point: the tire.

This post will outline how designing a powerful, lightweight motorbike required careful consideration of the best tire, which led to the design of a unique wheel, which led to several other Graft-only design choices.

Traditional Tires, Non-Traditional Bike



Over time, motocross tires have become wider and heavier, with 18" and 19" rear tires now becoming a normal option on bikes ranging from 450cc all the way down to 150cc because they offer a proven blend of performance and responsiveness.

Once our product vision started to take shape and we began to understand that the bike would weigh in around 110 pounds and it was clear that 18" or 19" tires weren't the right fit. Not only are they too heavy, but the sidewall is too stiff, reducing cushion and  making poor contact with the ground. This necessitated a creative approach to choosing the right tires for what is effectively a new class of motorcycle.  We started by looking at the number of plies (fabric layers beneath the tread cap) in each of the tires we tested, which tells us approximately how stiff a tire should be, but we also care a lot about the tire compound and tread pattern, which are crucial for maximizing the big torque of the EO.12. 



From a performance perspective, we're seeking a balance between maximum traction, great handling, puncture protection, weight and - most importantly for electric vehicles - low rolling resistance. All of this led us to settle on taller, narrower 21" tires with an aggressive lug pattern that offer impressive hill climbing torque and nimble handling.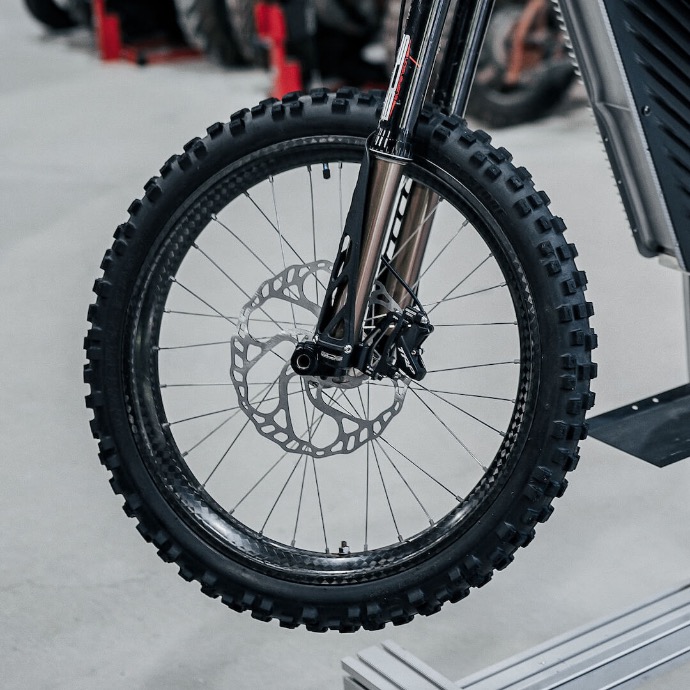 So for the EO.12, we settled on a 21" wheel size with an 80mm rear tire and a 2.75 front tire. In reality, those are two tires designed for the front of a motorcycle. Again, we made this decision based on the fact that these tires give us low rolling resistance, amazing traction, light weight and agile handling. So the vehicle doesn't feel heavy, you can still flick it around, but you still have the traction to harness all of the torque that we make. Once we had chosen the right tires, we needed to select a suitable rim.

Building from the Ground Up



The next logical part to consider after settling on the tires are the wheels. We've spent years trying different rims, but in the end, our bike's lightweight design offered the chance to utilize a carbon fiber off-road rim laced to our own specific spoke nipples and custom hub – making the EO.12 the only off-road bike in the market to offer carbon fiber rims. Once we had the wheel package settled, we explored the right wheel base for this type of vehicle, our target runtime, target weight, and more.


Our weight target came initially from understanding that we wanted to provide a three-hour runtime on one battery pack. From there, the approach was to maximize the performance we can get from the motors, and we have achieved almost 400 newton meters of torque at the back wheel. And after all that, we started to look at ergonomics, considering a full-size Western adult rider - someone about 6' tall - but making it adjustable to suit a shorter rider, as well. So from the tires and wheels, we then start to bring the human element in and work on what we call the hard points or the touchpoints, which are the handlebars, seat, and foot pegs.

The Wheel is Just the Beginning



Because of our special balance of weight and torque, tires and rims are just the beginning of the list of components that have to be meticulously selected or designed to accommodate and support the EO.12's performance. Several other drivetrain elements – including the hubs, brakes, rim lock, and suspension – require special attention so that the bike can attain and sustain its top performance.


Let's start with hubs. We manufacture our own hubs in house from the same material, on the same machines as our frame. This hub creates what's called a zero dish wheel, which is ultra lightweight, stronger, has a symmetrical spoke pattern, as opposed to most motorcycle and bicycle spokes where spokes are asymmetrical. With this hub, we're able to offer a pin drive interface for our sprocket to ensure that we can transfer the tremendous torque that our motors generate. Supporting this, we also have our torque shell design, which distributes torque across the hub evenly. This is a unique development that you'll only see on Graft motorcycles.

When it comes to brakes, for traditional 200mm, 1.8 millimeter-thick mountain bike brake rotors, the industry standard is stainless steel and this is what you'll see on typical electric motorcycles in our category. By contrast, our rotor is 250mm and 2.3 millimeters thick, which offers almost 50% better braking performance than the industry standard. This gives us the same level of brake performance as traditional motorcycles in a very lightweight package. At Graft, we machine the unique rotors to our specifications, giving us the best braking performance in the industry.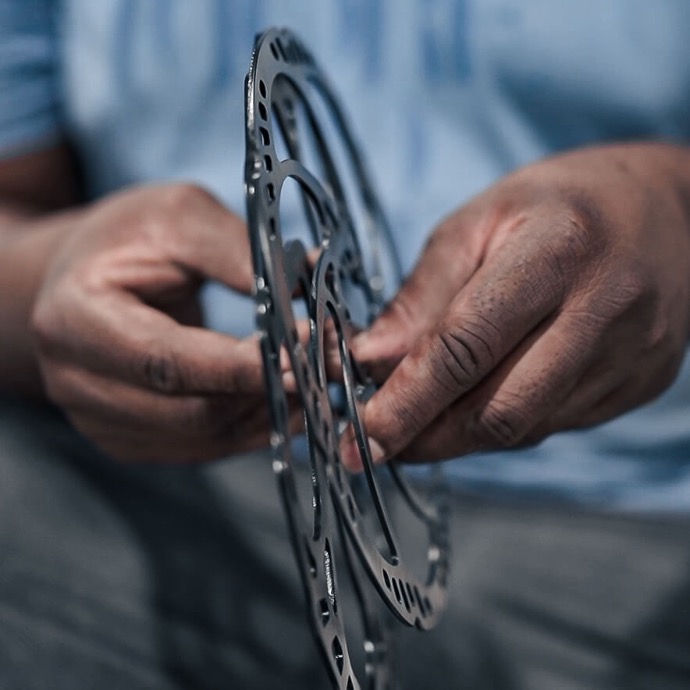 On the Graft EO.12 Factory Team Edition, you'll notice an extra nut on the rim, which is hiding what's called a rim lock. The rim lock is needed to lock the tire to the rim because the motorcycle generates so much torque and we run the tires at such low pressure that the tire can actually spin on the rim. Graft is one of the only companies to offer rim locks as standard, which not only prevents the tire from spinning on the rim, but also allows you to run ultra-low tire pressures for slippery days - as low as two or even one PSI. Also, should you ever get a flat tire, you'll be able to get home safely with the rim lock, knowing you'll be able to ride safely at low speed and the tire will stay on the rim all the way.

One more thing we're really proud of is our very unique suspension. Working with Olivier Bussard and the team and BLS, we designed a unique front fork. We're the only electric vehicle in the market to offer a fork with 42mm legs, proportional to what you see on a full motocross fork, for increased stiffness and lighter weight. Conversely, most of our competitors elect to use 38mm forks. In addition to our fork being three-way adjustable, it features a full hydraulic bumpstop - a hydraulic damper instead of a rubber damper – for extra cushion. In sum, the 42mm legs along with the carbon fiber rim and our unique zero dish hub mean you have a very stiff front end, which allows you to pick your line very, very specifically and carefully. We achieve all his while keeping the motorcycle at just 110 pounds while offering a full 25 horsepower.

Your Build for Your Best Ride



At Graft, we want to see our customers make vehicles suit them and the way they use them. We create our original builds based on our philosophy and values, which means making decisions like starting by choosing the tires, but we also fully support and expect riders to upgrade and modify the vehicles throughout their lifetime to suit their needs and the way they use them. 

Accordingly, we'll be offering a range of factory-approved upgrades as well as supporting companies that want to develop aftermarket upgrades for Graft vehicles. We feel that it's important to adapt vehicles specifically for each user, but also to extend the lifetime of the vehicles. Keep following our blog series to learn more about our concepts, designs, manufacturing and product evolution.